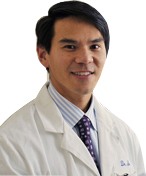 Dr. Edwin P. Su, MD
Hip and knee replacement surgery are two of the most successful operations ever invented, relieving pain and improving mobility…I feel incredibly privileged to be able to perform these procedures day in and day out, changing the lives of every single patient upon whom I operate!
I have now performed over 10,000 hip and knee surgeries since I began my career in orthopaedic surgery. Every procedure is still fascinating to me, as I strive to reconstruct artificial joints that restore the quality of life for my patients. Whether you are a professional athlete looking to return to your sport, a weekend warrior continuing to compete, or someone trying to play with your kids or grandkids, I will get you back into the game of life!
It gives me tremendous joy to see my patients return to their desired activities and passions. As I continue my practice, my goals are to keep improving the process of joint reconstructive surgery: to make the recovery easier, faster, and less painful; and to increase the performance, function, and longevity of the artificial joint.
Appointments
Associate Attending Orthopaedic Surgeon, Hospital for Special Surgery
Associate Professor of Orthopaedic Surgery, Weill Medical College of Cornell University
Specialty
Subspecialty
Certification
American Board of Orthopaedic Surgery
Professional Memberships
Fellow, American Academy of Orthopaedic Surgeons (AAOS)
Fellow, American Association of Hip and Knee Surgeons (AAHKS)
Member, American Orthopaedic Association (AOA)
Selected Presentations
Program committee member and lecturer, "Ceramic-ceramic bearings in THR"; and "Posterior approach for hip resurfacing", in course: 9th Symposium on Joint Preserving and Minimally Invasive Surgery of the Hip, New York, NY June 2011
Invited speaker, "Hip resurfacing: for the right indications", in course: Current Concepts in Joint Replacement, Las Vegas, NV May 2011
Invited speaker, "Hip resurfacing as a triumph of hope over reason (opposes)"; "Challenges in hip surgery: what would you do?"; and "Stiffness after TKR: How to avoid repeat surgery", in course: Current Concepts in Joint Replacement, Orlando, FL December 2010
Invited speaker, "Resurfacing: Who gets it?"; "Metal-on-metal: Is it worth the risk?", in course: Advances in Trauma and Arthroplasty, Miami, FL December 2010
Invited speaker, "The case for conventional total hip replacement without navigation", in course: Computer Assisted Surgery, New York, NY October 2010
Invited speaker, "Hip resurfacing: current state in 2010", HSS Adult Conference, New York, NY October 2010
Invited speaker, "Hip resurfacing: femoroacetabular impingement and hip resurfacing"; "Thrombogenic markers in hip resurfacing"; "Painful metal reactivity in hip resurfacing", European Hip Society, Athens, Greece September 2010
Invited speaker, "What I have learned in hip resurfacing"; "Effect of the media on hip resurfacing", in course: Advanced Resurfacing Congress, 4th annual meeting, Ghent, Belgium June 2010
Invited speaker, "Is there still a role for hip resurfacing in 2010?", Mount Sinai Hospital Orthopaedic Surgery Grand Rounds, New York, NY June 2010
Invited speaker, "Conversion of a failed hip resurfacing to total hip replacement – a live surgical demonstration", in course: Current Concepts in Joint Replacement, Las Vegas, NV May 2011
Course chairman and speaker, "Hip Resurfacing for osteonecrosis – a live surgical demonstration"; "Vascularity of the femoral head"; "Importance of acetabular positioning"; "Results of conversion surgery"; "Difficult cases in hip resurfacing", in course: Advanced Topics in Hip Resurfacing, New York, NY May 2010
Invited speaker, "Hip resurfacing: indications, surgical technique, and results", Lenox Hill Hospital Orthopaedic Surgery Grand Rounds, New York, NY March 2010
Invited speaker, "The use of imaging in a hip and knee arthroplasty practice", HSS Radiology Grand Rounds, New York, NY February 2010
Invited speaker, "Conversion of a failed hip resurfacing: ensuring an optimal THR outcome"; "Stiffness after TKR: avoiding further surgery"; "Management of acetabular osteolysis", in course: Current Concepts in Joint Replacement, Orlando, FL December 2009
Invited speaker, "Hip resurfacing: indications and results"; "Treatment of the unstable THR"; "Alternative bearings in THR"; "Uncemented TKR revision", Argentine Hip and Knee Society Annual Meeting, Buenos Aires, Argentina September 2009
Education
BA, Harvard University, Cambridge, Massachusetts, US
MD, Cornell Medical College, New York, New York, US
Internship
New York Presbyterian Hospital, General Surgery, New York, US
Residency
Hospital for Special Surgery, Orthopaedic Surgery, New York, US
Fellowship
Hospital for Special Surgery, Adult Reconstruction, New York, US
Edwin P. Su, MD is the author of the following articles on HSS.edu:
Patients
For Professionals
Special Expertise
Treatment of hip and knee arthritis in young, active patients
Mini-incision total hip replacement
Minimally invasive total knee replacement
Surface replacement of the hip
Revision hip and knee replacement surgery
Partial knee replacement
Awards
Jean C. McDaniel Award for Graduating Orthopaedic Resident
Alpha Omega Alpha, Cornell Medical College
T. Campbell Thompson Award in Orthopaedic Surgery, Cornell Medical College
Clarence Coryell Award in Surgery, Cornell Medical College
Magna Cum Laude with Highest Honors, in Biology, Harvard University
Affiliations
American Academy of Orthopaedic Surgeons, Candidate Member
Selected Publications
Hayter CL, Potter HG, and Su EP. Imaging of Metal-on-Metal Hip Resurfacing. Ortho Clin North Am. 2011, 42(2): 195-205.
Chalmers P, Sherman S, Figgie MP, and Su EP. Rheumatoid Synovectomy: Does the Surgical Approach Matter? Clin Orthop Relat Res 2011, published online first Jan 7, 2011

Su EP

, Chatzoudis N, Sioros V, Go G, Sharrock NE.. Markers of Thrombin Generation during Resurfacing and Non-Cemented Total Hip Arthroplasty – A Pilot Study. Clin Orthop Relat Res. 2011; 469(2): 535-540
Amstutz HC,

Su EP

, Le Duff MJ, Fowble VA. Are There Benefits to One- versus Two-stage Procedures in Bilateral Hip Resurfacing? Clin Orthop Relat Res. 2011; 469(6):1627-34.

Su EP

, Su SL, Della Valle AG. Stiffness after TKR: How to Avoid Repeat Surgery. Orthopaedics. 2010 Sept 7; 33(9).

Su EP

. Lysis in the well-fixed shell: "hold 'em or "fold 'em". Orthopaedics. 2010 Sept 7; 33(9).

Su EP

, Su SL, M Sheehan. Comparison of bone removed during hip resurfacing and total hip arthroplasty – a cadaveric study. Journal of Arthoplasty, 2010; 25(2):325-329.
Miller AN,

Su EP

, Bostrom MP, Nestor BJ, Padgett DE. Incidence of ceramic liner malseating in Trident acetabular shell. Clin Orthop Relat Res. 2009 Jun;467(6):1552-6.
Shah SN, Kaye RJ, Kelly NH,

Su EP

, Padgett DE, Wright TM. Retrieval Analysis of Failed Constrained Acetabular Liners. Journal of Arthroplasty. 2009; 24(6 suppl): 54-57.
Robertson WJ, Mattern CJ, Hur J,

Su EP

, Pellicci PM. Failure mechanisms and closed reduction of a constrained tripolar acetabular liner. Journal of Arthroplasty. 2009 Feb;24(2):322.e5-11.
DeHaan R,

Su EP

, Campbell P, and K DeSmet. Revision of hip resurfacing arthroplasty for component malposition. J Bone Joint Surg Br. 2008;90(9):1158-1163. PubMed listing
Clinical Trials